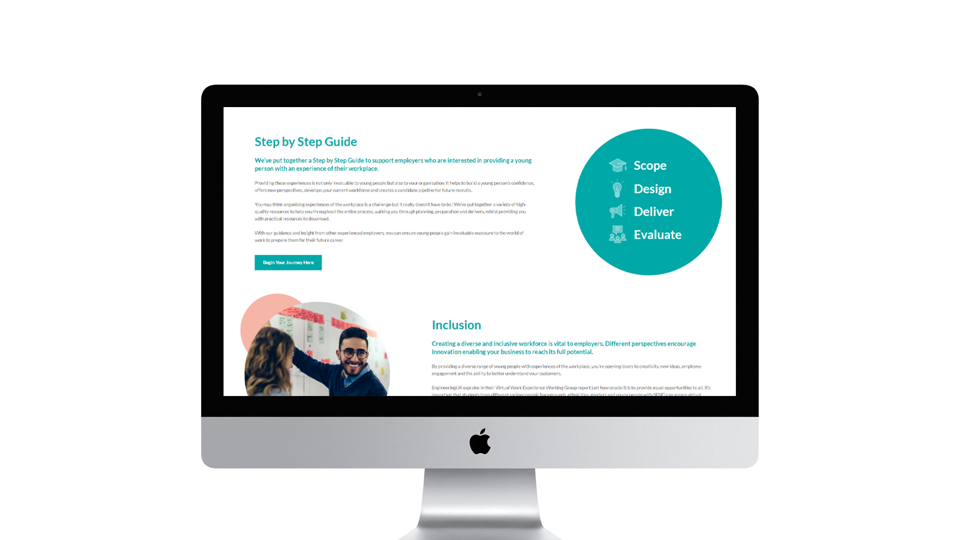 Discover our resources, digital tools and upcoming events
Our free resources and tools can help you engage with your local education community, provide experiences of the workplace and make a difference for young people each and every day.
Employer Resources
Our Resource Directory allows you to find quality assured resources to help you support young people and prepare them to take their best next step. Resources are available to guide your thinking around this critical area of careers education.
Visit our Resource Directory to learn more.
Providing experiences of the workplace
When you think about work experience, do you consider it to be complex and time consuming? Or do you feel that you do not have the resources to deliver an effective work experience programme? 
We have developed a digital guide rich with information and resources from employers and organisations to help you understand the impact your organisation could have.
Visit our guide to work experience to access support and find out how to give young people a positive experience of your workplace.
Invite teachers into your workplace with teacher encounters
A teacher encounter provides an opportunity for teachers to engage directly with employers to see and learn about the different career pathways relevant to their subjects, and to observe how their subject is applied practically in business.
Read more about the different types of teacher encounters you could host and some tools to help you get started. 


Working with Young People with Special Educational Needs and Disabilities (SEND)
All young people deserve access to great careers guidance and experiences of the workplace, and employers like you play a vital role in providing those experiences. 
We have created step by step resources to support employers when working with young people with SEND. Designed to increase levels of confidence in providing experiences and encounters of work, these resources will not only benefit young people with SEND, but also your business and workforce.
Access our resources to make a difference for all young people. 
Peer learning webinars
Find out more
If you have any questions about our tools and resources, please contact employers@careersandenterprise.co.uk
Contact us