AAN and CEC join forces to inspire secondary school children across England on apprenticeships
17 Oct 2023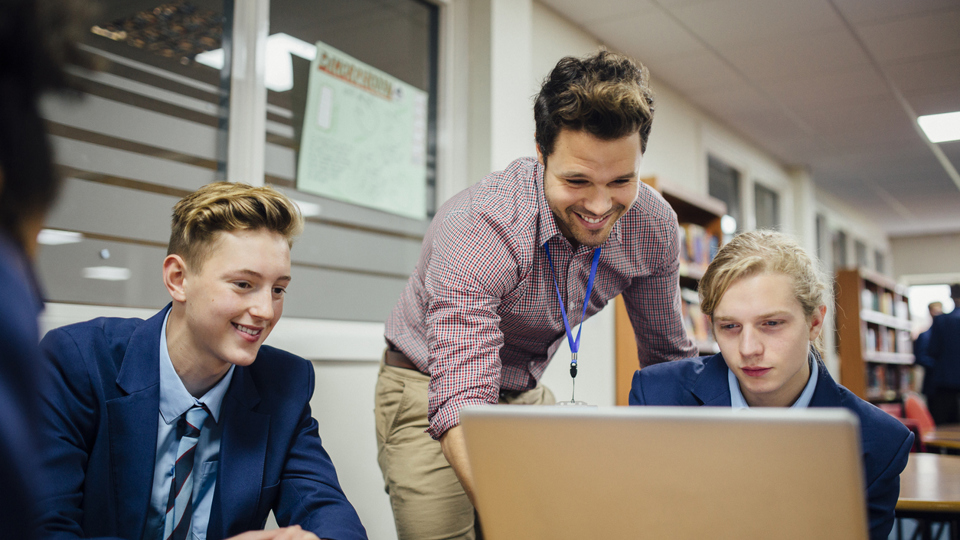 The Apprenticeship Ambassador Network (AAN) and The Careers and Enterprise Company are to work closer together to further promote technical education awareness within schools and colleges across England.
An ambitious target of having an Apprenticeship Ambassador Network member (employer member or apprentice member) engaged with every secondary school and college in England by March 2026, will see current and former apprentices conveying their compelling stories to influence and inspire the next generation.
Apprenticeships are a vital pathway to career success, offering individuals a unique opportunity to gain valuable skills and experience whilst earning a wage. Young people need comprehensive career guidance and inspiration to make informed decisions about their future. They are now increasingly understanding more about apprenticeships - with awareness of apprenticeships doubling from 39% in Year 7 to 81% by Year 11.
A key aim of this initiative is to support schools and colleges to access a greater range of local apprentice employers, covering a breadth of sectors. This will help employers develop the future local workforce, supporting young people and the economy at the same time.
The partnership between the AAN and the CEC builds on the excellent work schools and colleges have undertaken to embed the Gatsby Benchmarks of Good Career Guidance. This has helped to make sure young people have access to more meaningful encounters with the world of work and more information about apprenticeships.
Rt Hon Robert Halfon MP, Minister for Apprenticeships and Skills saw this first hand today during a visit to the Oasis Academy in Brislington, where he spoke to 260 pupils in Year 10 and witnessed apprentice and employer Ambassadors delivering exciting sessions focused on career choices.
The Minister said:
"This powerful partnership between the AAN and the CEC is a brilliant initiative to increase the number of apprenticeships, by helping young people to understand the value of technical education and where it could take them.
"The ambassadors will inspire the next generation to take up an apprenticeship, which is the best way to climb the ladder of opportunity and launch a fantastic career, building the skills that employers are looking for while earning a wage."
CEC Chief Executive Oli de Botton said:
"We welcome working with the Apprenticeship Ambassador Network on this new initiative – linking the apprentices of today, with those of tomorrow.
"Apprenticeships are a brilliant pathway to a rewarding career. Helping young people access the opportunities they provide is essential work.
"There is a renewed energy and urgency to this cause – from businesses who want and need more skilled workers – and from young people who are more and more interested in these routes.
"It is clear from our work through our local Careers Hubs that there is extraordinary expertise and willingness to help young people make strong transitions onto technical pathways."
Anthony Impey MBE, Chair, Apprenticeship Ambassador Network, stated:
"The visit today is part of a pilot we are running with 24 secondary schools and colleges in Bristol to learn how to reach our overall objective where our Ambassadors will be engaged with every secondary school and college in the next 3 years. We will be scaling up this work at pace because it is both an economic and social imperative that we can get more young people involved in apprenticeships. This is all about showing pupils that an apprenticeship will equip you with the skills, knowledge, and attributes to succeed in the world of business. Ambassadors have the expertise, insights, and passion to ensure schools can promote apprenticeship opportunities more widely across the entire country."
Call to action
On the 7th February 2024, the AAN is calling on employers and apprentices to inspire as many young people as possible during Apprentice Wednesday of National Apprenticeship Week. Reach out through local career hubs or to your local school or college to inspire the next generation of apprentices.
Any employers or apprentices who want to join the AAN can do so by emailing AAN.Chair@education.gov.uk.
Apprenticeship Ambassador Network
The Apprenticeship Ambassador Network is a dynamic community of 900 passionate employers, and 400 apprentices and former apprentices, dedicated to promoting apprenticeships to young people and employers.
Learn more