New national approach to boosting apprenticeship take-up for young people wins £1 million backing from Salesforce
13 Sep 2023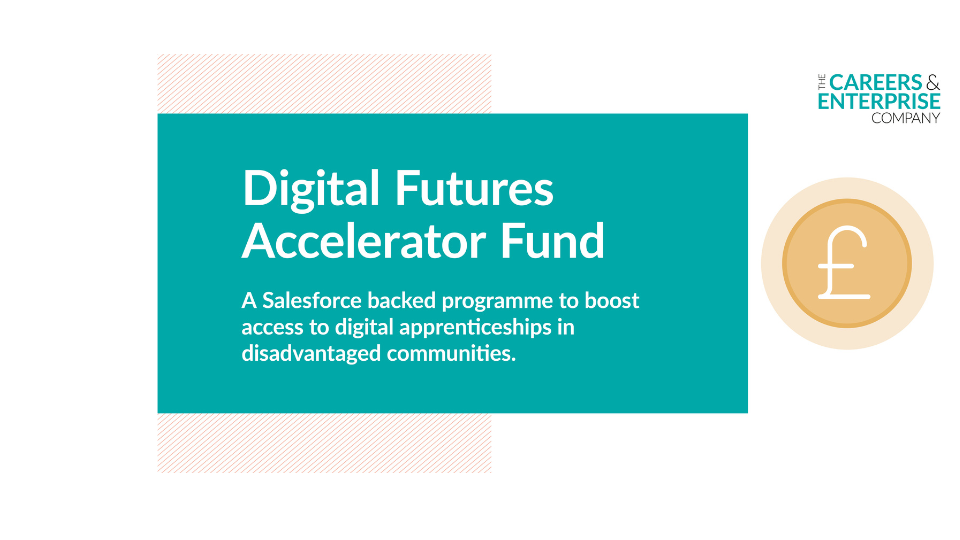 44 English regions are adopting a new approach to get more young people taking apprenticeships.

Eight common factors affect apprenticeship take-up - with different factors having different weight in different regions.

England's 44 Careers Hubs to roll-out local action plans designed to overcome barriers and widen access to apprenticeships and technical education routes.
Salesforce is investing £1 million in The Careers & Enterprise Company (CEC) to support a new national approach to identify and overcome barriers to apprenticeship take-up in England.
Partnering with England's national body for careers education, CEC, Salesforce will invest in an 'accelerator' programme to boost access to digital apprenticeships in disadvantaged communities.
The Digital Futures Accelerator Fund (DFAF) will use the latest data and evidence from CEC's new Apprenticeships and Technical Education (ATE) Framework which is published today. Conditions for Transition is a region-by-region analysis against the eight identified factors that affect transition onto ATE pathways for young people in England.
The report draws together publicly available evidence and data with insight from more than 500 experts from education, business and local authorities, drawn from 43 - of CEC's 44 - regions. The goal was for local areas to agree on the specific factors (from the eight in the framework) they wanted to work on to overcome barriers for young people.
The DFAF announcement and publication of Conditions for Transition are designed to help employers and young people meet their future ambitions – exploiting increasing enthusiasm for routes likes apprenticeships.
A survey of 104,000 young people by The Careers & Enterprise Company (CEC) shows young people's awareness of apprenticeships is improving – more than doubling from 37 per cent in Year 7 to 80 per cent in Year 11.
Conditions for Transition highlights how a young person's journey onto a technical pathway is affected by eight key factors (including employer need in the area, young people's awareness etc.) Although the analysis suggests that the barriers vary region by region, sector by sector, person by person, there were some common national themes, including:
Employer need does not always translate into opportunity
Young people's interest does not always translate into take up
There are good support programmes in place that are making a difference - better collaboration and coordination would boost effectiveness.
In Cornwall, the expert consensus was that access to the right sort of training was key. This compares with Birmingham where enthusiasm for the local jobs offering apprenticeships needed boosting. In Manchester ensuring interest converts to application was important and in London experts agreed understanding the full variety of routes into apprenticeships and technical qualifications was crucial.
What the report highlights is there is no one size fits all solution. Targeting the right barriers with right remedy in the right region is essential to boosting provision and opportunity.  Careers Hubs – together with local partners – are using this analysis to take action over the next academic year. 
As a member of expert panel in Liverpool said, "The ATE Framework has helped us identify that with the diversity and vast range of apprenticeship and technical pathways now available, there is a route for everyone and we need to showcase that more.
"As a result, our focus is to prioritise that, build understanding of future growth sectors to align with  the local talent pipeline – boosting take up and helping every young person access progression routes for their future."
Ron Smith, Vice President of Philanthropy at Salesforce said:
"As technologies like AI are rapidly changing the jobs that will be available in the future, investing in career readiness for youth has never been more critical. Salesforce is committed to expanding alternative pathways into technology careers, and helping educators and workforce development organizations prepare the next generations for success.
"We're excited about how the Digital Futures Accelerator Fund will leverage the ATE Framework to better understand local community needs and empower young people to access technology careers.
"It's important for us as a business to help bridge the gap between education and employment, diversify our talent pool, and broaden opportunities for young people. We are proud to support The Careers & Enterprise Company in furthering their important mission of ensuring equal access to career opportunities across England."
Oli de Botton, Chief Executive of The Careers & Enterprise Company said:
"Apprenticeships are a brilliant pathway to a rewarding career. Helping young people access the opportunities they provide is essential work. Our new ATE framework is designed to help all of us working in this area to target support effectively.
"There is a renewed energy and urgency to this cause – from businesses who want and need more skilled workers – and from young people who are more and more interested in these routes.
"The investment from Salesforce in the digital sector – an industry which contributes £150 billion to the UK economy - is fantastic and shows the real power and potential of our new ATE Framework. 
"It is clear from our work with employers, educators, local and combined authorities and agencies, there is extraordinary expertise and willingness to help young people make strong transitions onto technical pathways.
"We hope this new ATE Framework will help everyone in the system work together efficiently and effectively and support more young people make that successful transition to apprenticeships and technical education and take their best next step." 
Conditions for Transition: Supporting young people onto apprenticeships and technical pathways
The report is a region-by-region analysis against these eight factors identified as affecting transition onto ATE pathways for young people in England.
Read the report
Watch our first Careers Excellence Seminar
Watch our panel of experts discuss the topic 'what does excellence in apprenticeships and technical education look like?'
Read more