Teachers back new scheme to drive careers education excellence everywhere
18 Oct 2023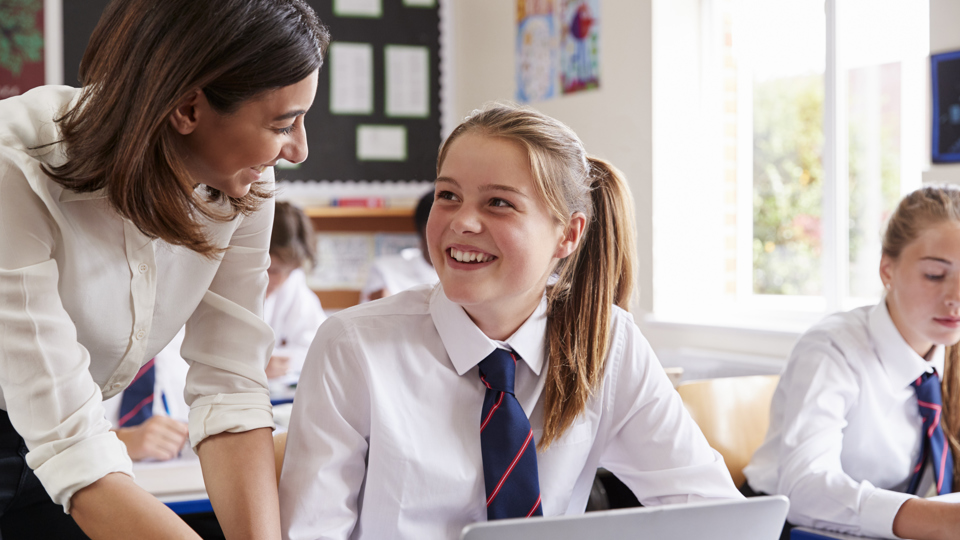 New national peer and expert review system to improve careers education practice.

Independent assessment finds strong support among education leaders.

96% of education leaders say it will lead to improved careers provision; 86% say it will lead to improved student outcomes.

Over 90% of secondary schools and colleges engaged in Careers Hubs across England.
A new quality system being introduced to drive up standards in careers education has received strong support from education leaders, according to a new report by Chrysalis Research.
Called The Careers Impact System, it comes as recent reports from the Education Select Committee and Ofsted concluded the right careers system is in place, backed by national investment in Careers Hubs, which is delivering positive progress and improved student outcomes.
Data shows that established Careers Hubs outperform other areas of the country on careers provision.
The new system is strongly supported by education leaders. More than nine in ten (96%) say it will improve careers provision. More than four in five (86%) say it will lead to improved student outcomes and nearly three quarters (72%) say it has established strong links between careers and school improvement.
The Careers Impact System has been developed by The Careers & Enterprise Company (CEC). It supports and corroborates self-assessment against the Gatsby Benchmarks.
Designed as a continual quality improvement and assurance process, the system pushes careers provision up the school agenda, linking it to overall school and college improvement, and connecting it into local labour market needs.
Lou McManus, Assistant Principal at Shotton Hall Academy in County Durham said, "I relished the extended opportunity that the Careers Impact System gave me to sit around the tables with experts and discuss the provision."
She added, "I realised that careers isn't just an A to B journey. I really need to look at the skills students are gaining between A and B – how that makes a positive contribution to curriculum performance and positively affects students as individuals."
The system has been tested with school and college leaders in 82 diverse institutions across the country and independently evaluated. The plan is now to roll it out nationally to schools, special schools and colleges though Careers Hubs. More than nine in ten (95%) education leaders who took part in the pilot testing say they would recommend it to other schools and colleges.
Nearly all education leaders (98%) say the review process is a positive experience – striking a balance between responding to challenge, recognising strengths – and building on them. More than four in five (83%) say it has helped improve their understanding of good practice in careers education and how it is linked to whole school improvement and better outcomes for young people.
79 per cent say it helps them identify how to improve their programmes. The top three areas identified for improvement are:
Strengthening the evaluation of careers programmes (59%).
Bringing parents into the careers conversation (54%).
Raising the profile of careers by involving all teaching staff (53%).
Katy Tibbles, Trust Head of Careers at Turner Schools Trust in Kent said: "Since our review, staff now understand that careers can be embedded across the curriculum. When young people are in a lesson – particularly if they're in a subject they don't naturally enjoy – you can use careers to make it more relevant, so they can see the purpose and benefit of it."
She added, "The Careers Impact System forced everyone to reflect. The trust executive principal is now looking at how careers supports our trust-wide priorities: how we can use careers to support attainment-raising and parental engagement.
"We have a high percentage of disadvantaged pupils in our schools – at one of them, 47 per cent of pupils are on free school meals. Talking to our pupils and their parents about careers is definitely an easier conversation than: "What grades are you going to get for GCSE?" But we can create interest in exam grades by putting it in the context of careers."
Oli de Botton, Chief Executive of The Careers & Enterprise Company said:
"Our new Careers Impact System represents an important shift from coverage to quality – from universal support to excellence everywhere.
"As the careers system matures and the consensus around the Gatsby Benchmarks, Careers Hubs and Careers Leaders embeds, the next phase is to ensure continuous improvement.
"This means a relentless focus on the quality of provision, at the institution and system level via the Gatsby Benchmarks, and the practice level via the Careers Impact System - a peer and expert review process.
"This will help ensure all young people receive high quality modern careers education support they need, enabling them to take their best next step."
Beth Jones, Head of Careers Programmes at the Gatsby Foundation said:
"We are delighted to see schools and colleges continuing to make excellent progress towards reaching the standard of the Gatsby Benchmarks careers framework.
"Alongside this, the evaluation of the Careers Impact System pilot demonstrates the importance of having robust quality assurance and shows us how we can continue to embed the importance of careers guidance at the heart of school and college leadership, planning and improvement".
From coverage to quality: a careers system of continual improvement
This report explores how the careers system is programme is progressing against the Gatbsy Benchmarks and how we are assuring provision.
Read our report
Careers Impact System Evaluation
An external evaluation conducted by Chrysalis of the pilot of the Careers Impact System has found that the system works and is ready to be scaled nationally.
Read the evaluation