Young people encouraged to look at building careers in construction
09 Jan 2023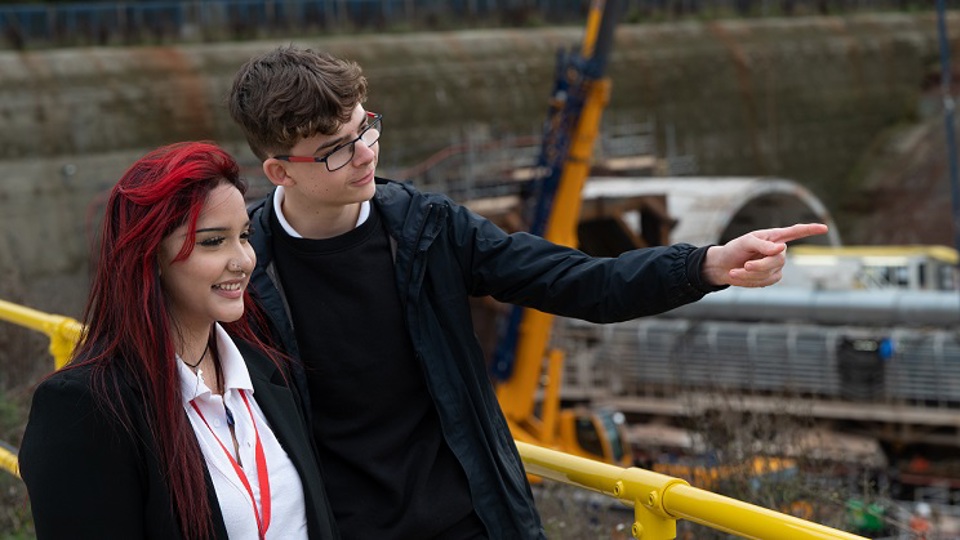 The Careers & Enterprise Company is once again delighted to be a community partner for Build UK's Open Doors Week, running from 13-18 March 2023. We will be raising awareness of the week both within schools and colleges and also with the construction sector employers that we work with. 
Open Doors is delivered by Build UK to offer young people and those looking for a change of career an exclusive opportunity to take a look behind the site hoardings of fantastic 'live' construction sites, supported by virtual events, showcasing the diverse range of opportunities available. With construction facing a severe skills shortage and 266,000 new workers required by 2026, Open Doors is an excellent way of inspiring people to choose a career in the sector and take the next steps to progress into the industry.
This year's Open Doors will see more than 150 construction sites, offices, factories and training centres opened up across England, Scotland and Wales, showcasing hundreds of different professions. Visitors can book their place now to go behind the hoardings on a variety of projects, including hospitals, schools and universities, theatres, libraries, viaducts, and production and training facilities.
Schools and colleges in particular are encouraged to book group visits and open the eyes of their students to the opportunities available in the sector, which include a diverse range of apprenticeships.
New sites will continue to be added over the coming weeks, so keep an eye on the Open Doors website for the latest projects in your local area.
Suzannah Nichol MBE, Build UK Chief Executive, said: "Many young people don't know what they want to do when they leave school, so we have a fantastic opportunity to capture their imagination and show them just what they can achieve – whether they are considering college, a traineeship, an apprenticeship, or university.
"People often look at the construction sector and think it is only for a certain type of person, but it's for everybody, and Open Doors is a fantastic way to see that. There is nothing like actually going on site and watching the industry in action. So have a look at what's on in your local area, book your visit today, and find out where a career in construction could take you!"
Suzanne Hardy, Head of Social Value (Construct) at Mace, added:
"Finding your first step into the world of work is more important than ever, and Open Doors is the perfect way to see the diverse roles construction can offer - from hands-on building trades to design, architecture, finance and sales and marketing. We already have multiple visits planned with schools across our projects, so we know people have a real desire to learn more about the industry, understand the vital role it plays in the economy, and discover the opportunities available to them."
Tamsin Parkes, Project Manager for Build UK tells us:
 The construction industry is evolving rapidly.  Advances in technology, environmental and social standards have not only changed the way the construction industry operates but also created a whole host of jobs that you many not traditionally associate with it.
Construction is a hugely valuable sector of the UK economy, representing close to 10% of GDP and employing around 2.3 million people. However, to maintain current output the industry needs to increase recruitment. Whilst it attracts over 35,000 young people every year to take a construction-related course at college, only one in four of this number are taken on within six months of finishing their course.
The industry needs more than just a new recruitment campaign. It needs to provide rewarding jobs with flexible working in an environment with decent welfare arrangements where people are valued, developed, and supported. Unfortunately, a culture of self-employment, long hours and a poor mental health record means this experience is not the same for everyone. If the industry wants to be a career of choice for school leavers, it must improve its business model and increase productivity to create sites, projects and companies that people want to work for.
And that's where Open Doors comes in.
Run by the industry, for the industry, Open Doors takes people behind the site hoardings for in-person experiences on sites across the country. Designed to encourage young people and those looking for a change of career to consider joining the industry, the project aims to challenge preconceptions and highlight the wide range of opportunities available, including thousands of apprenticeship places. In addition to familiar site-based construction roles, many of the positions available are based externally, with companies requiring a back-office support network, front-of-house sales teams, and cutting-edge technical roles.
Since launching in 2016, it has seen over 1,000 sites across the UK welcome people behind the hoardings. Whether it is to a major project such as Battersea Power Station or a local housing project covered in scaffolding – nothing beats seeing an excavator or crane in action, with a passionate site team on hand to answer questions and explain what they are creating in the local community.
Find out more
Contact Open Doors UK if you have any queries.
Email