Lancaster and Morecambe College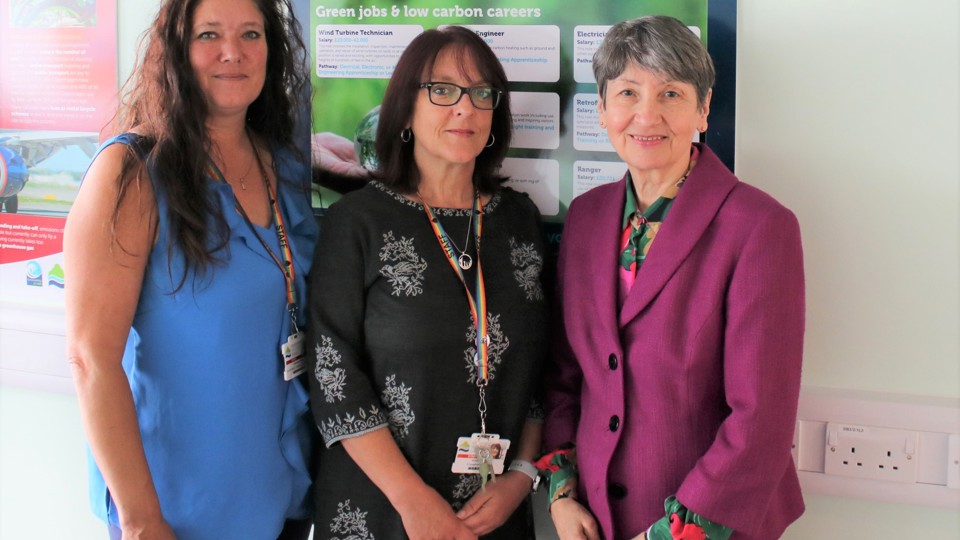 Lancaster and Morecambe College (LMC) have developed a careers strategy that places them at the forefront of environmentalism and sustainability within Further Education.
Inspired by the Eden Project, the college's leadership team – including Vice Principal Charlotte Rawes (left in image), Head of Engagement Victoria Carter (middle) and Sustainability Lead Maggie Cawthorn (right) – have embedded climate consciousness and green careers at the heart of their curriculum. Their dedication to driving change has equipped young people pursuing Further Education with the knowledge and behaviours needed to build a sustainable future – for their careers, and for the planet.
The college is based in north Lancashire, where industries like renewable energy and agriculture are thriving due to the surrounding natural landscape. To raise awareness of this local abundance of job opportunities, staff 'Sustainability Champions' have been trained to advocate an environmental ethos throughout the college's operation and, in conjunction with the School & Community Engagement team, conduct eco-friendly careers outreach to pupils at primary and secondary schools in the area, promoting the region as a place where young people can aspire to learn, work, and live with fulfilment. The team at LMC also intend to introduce 'Student Champions', who'll drive sustainable behavioural changes at a peer level.
Various initiatives have been actioned across the college to deliver on this eco-friendly focus. More sustainable approaches to the Catering & Hospitality curriculum have been implemented, including the development of a thriving kitchen garden (complete with beehives), electric plant machinery has been procured for the Construction, Energy & Engineering and all the products within the Hair and Beauty training salons onsite have been replaced with recyclable vegan alternatives. The college has even utilised a 360° cinema experience to raise awareness about the potential effects of climate change on Morecambe Bay.
The leadership team at LMC have created a careers programme that gives the next generation an appreciation of the planet, providing insight into how young people can pursue careers that positively contribute to sustainability within their own community. Promoting opportunities while still honouring net-zero pledges shows that environmental-consciousness can feature as a fundamental aspect of career development.
Together, the leadership team at LMC are Careers Champions for 2023.