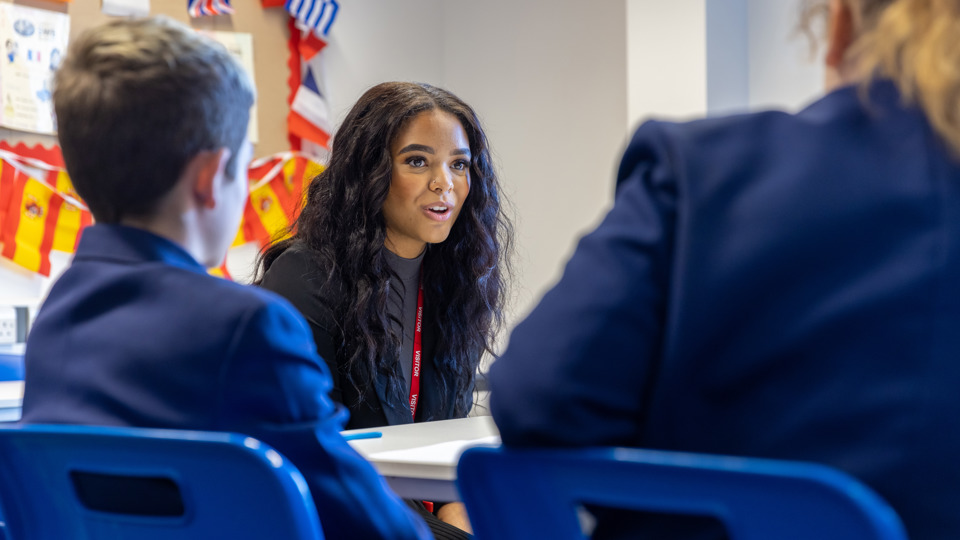 All Careers Leaders require outstanding training
*If you have a question about the training not covered on this page you can book a short, informal session with an adviser to answer any queries you have.
Our training courses provide a huge opportunity for you as a Careers Leader to accelerate your school, special school or college towards achieving the Gatsby Benchmarks. In order to achieve this, we help you improve your understanding of your role and develop the skills required to strategically embed a careers programme.
Whether you are new to the role or highly experienced, there are training courses designed for all levels that will help you ultimately inspire young people to find their next best step. 
New to the role? Complete our Online Induction modules.
We offer an online induction to the Careers Leader role designed for those newly appointed to better understand the value of the role and the careers education landscape in all settings. 
We also have a fully funded training course led by nine high quality training providers, which will equip you with all the knowledge you need across leadership, management, co-ordination and networking. 
Fully funded Careers Leadership training
Over 3,000 Careers Leaders have completed the training and are using it to improve and develop their careers programmes.  
Choose from distant, face-to-face or blended learning courses.
Network and make new connections with other Careers Leaders.
Improve your knowledge of the role and gain access to a qualification (up to level 7). 
All Careers Leaders are eligible to apply for a fully funded training place*.  
Please note: Our training courses focus on Careers Leadership. While they won't qualify you directly as a Careers Advisor, select accredited courses can offer credits towards a Level 6 Careers Advisor Qualification. In addition our Level 7 courses can lead to a postgraduate diploma or a Master's with the professional award of the Qualification in Career Development (QCD)
How it works
To register for a fully funded place, first explore each of our training providers below to decide which course is right for you. You can also use our comparison guide or alternatively watch an overview video of each course.
You can speak directly to the provider about any queries you may have regarding their course including start dates and course requirements. You'll be able to register directly from the training provider's course page or here.
On completion of the course, you will receive £1,000 to spend on any expenses required (e.g. staff cover) or furthering your CPD or Careers Programme. For more details on how the funding works, please read the FAQs. 
If you already know which course and Training Provider you wish to enrol with then you are all set to register for a funded training place! Register now.
If you have any questions about the training and/or bursary, please contact careersleaders@careersandenterprise.co.uk 
* Funded training is available for careers leaders or personnel in all state-funded secondary schools and colleges, including SEN and AP and Independent Special Schools
The benefits of Careers Leader training
Jennie Cole at Hailsham Community College, a former Careers Leader, speaks about her experience of completing Careers Leader training. We also hear from the principal about the wider impact of the training on the college and its young people.
Sign up for fully funded training 
Do you already know the training provider and course you would like to attend? Then register now to secure your place. 
If you have any questions about the training and/or bursary, please contact careersleaders@careersandenterprise.co.uk 
Register
Are you a new Careers Leader?
Access our FREE online induction learning modules to better understand the value of the role and the careers education landscape in all settings. 
Online learning modules
Parental Engagement training modules
Our brand-new Parental Engagement training modules will help you to understand how you can effectively engage families in your careers provision.
Learn more
Explore our training providers
The course has helped me reflect on leadership styles and methods, both strategically and operationally. I have worked closely with the Senior Leadership Team in order to agree the direction and outcomes of the programme, also agreed with the governing body. From this I have drawn up a strategic plan and an operational model to deliver the programme.

Careers Leader, 2021 Cohort
Register now
Have you chosen a course and a Training Provider? Then register now to to take the next step on one of our training courses. 
Register now