Companies and classrooms collaborate to enrich curriculum and career choices
25 Jan 2023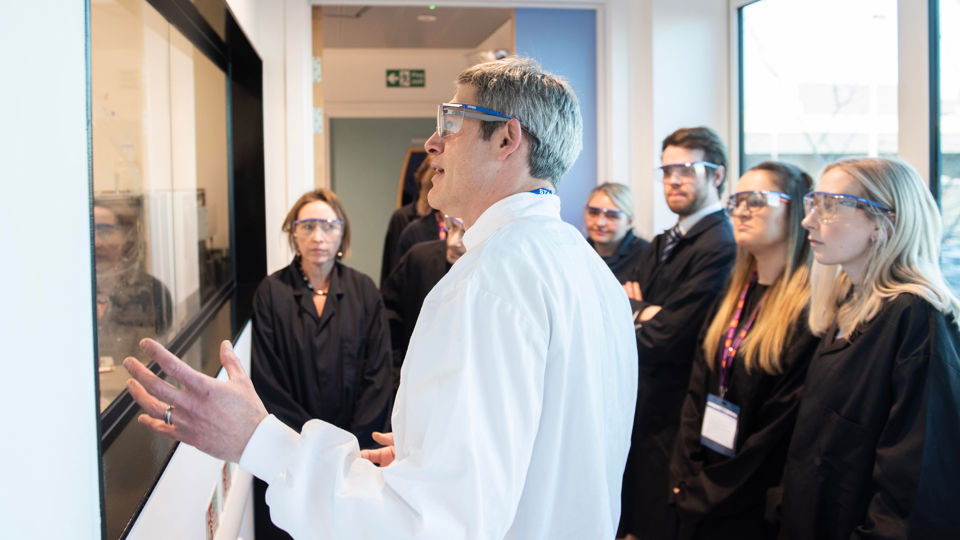 Companies and classrooms collaborate to enrich curriculum and career choices
New initiative connects teachers to employers to bring skills and workplace experience into classrooms
A new national pilot programme will bring together 1,000 teachers and 200 businesses across England to boost collaboration and improve young people's career opportunities.
The Careers & Enterprise Company's (CEC) Teacher Encounters programme will engage a range of business from SME's to major multinationals and involve companies like Rolls Royce, Cap Gemini, BAE Systems, construction giant Balfour Beatty and international film studio Pinewood.
The new initiative, a key recommendation of The Times Education Commission, comes as studies show teachers are a key source of career inspiration for students. However, they want more information about the range of future options - in particular vocational and apprenticeship pathways - which are not a feature of their current training:
Research by The Sutton Trust shows nearly nine in ten teachers (88%) feel their training doesn't currently prepare them to deliver careers support to students.
A report by PLMR shows while 70 per cent of teachers agree apprenticeships provide excellent future opportunities, only 26 per cent feel confident advising students about how to find an apprenticeship. In contrast, when it comes to university applications, 90 per cent feel confident giving advice.
Subject teachers part of the careers conversation
CEC's Teacher Encounters programme will bring teachers together with local businesses to:
Develop a deeper understanding of local jobs - including the routes-in like apprenticeships - and the skills required in the world of work.
Pursue teachers' interests by exploring ways of enriching the curriculum; connecting learning in lessons to how it is applied in the workplace
Build a shared understanding of the similarities and differences between school and work life.
Evidence from two early test pilots in Oxfordshire and Berkshire show support among teachers for Teacher Encounters. They say they help them improve their understanding of the range of jobs and routes into the workplace of today. They also help them bring that insight into how they teach their subjects, linking classroom learning to workplace skills.   
Proposed projects will range from face-to-face workplace visits and industry placements to subject specific learning across key economic sectors.
The Teacher Encounters programme builds on policy proposals for careers awareness training for all teachers in the Government's Skills for Jobs (January 2021) and Schools (March 2022) White Papers. Proposals echoed by Lord Blunkett's recent Learning and Skills Report (October 2022).
Oli de Botton, Chief Executive of The Careers & Enterprise Company, said:
"Teachers are powerful sources of careers inspiration for young people - through the conversations they have and the curriculum they teach. One of the ways we can support this work is through bridging the worlds of business and education and giving teachers meaningful encounters with employers.
Done well, these encounters can inspire teachers, students and employers. Teachers can see first-hand how local businesses work, including the routes in like apprenticeships. Students can benefit when teachers bring this insight into their lessons, linking learning to workplace skills. And employers can learn more about the workforce of the future.
"This pilot is an opportunity to bring careers education further into the mainstream of school and college life and build on the enthusiasm we know is there from business to better support schools and from teachers to support their students to take their best next step."
Robert Halfon, Minister for Skills, Apprenticeships & Higher Education said:
"Teachers are critical in transforming young people's lives and by linking them to employers, we are developing the skills of teachers to deliver valuable career-related learning in lessons and to raise awareness of the different careers and pathways like apprenticeships.
"This collaboration will extend the ladder of opportunity to all students helping them progress to a great future career, while ensuring we can provide the next generation of skilled workers that businesses want and need."
Geoff Barton, General Secretary of the Association for School and College Leaders said:
"We very much welcome additional support which helps schools, teachers, leaders and careers professionals to engage young people and help them make fully informed decisions about their future learning, training and career choices. As we look towards economic recovery, enhancing understanding of the skills, knowledge and experiences that employers need now and, most importantly, in the future is incredibly useful."
Find out more about teacher encounters
Learn how inviting teachers into your workplace can benefit your business
Find out more