Education Select Committee chair sees Careers Hub in action
02 Mar 2023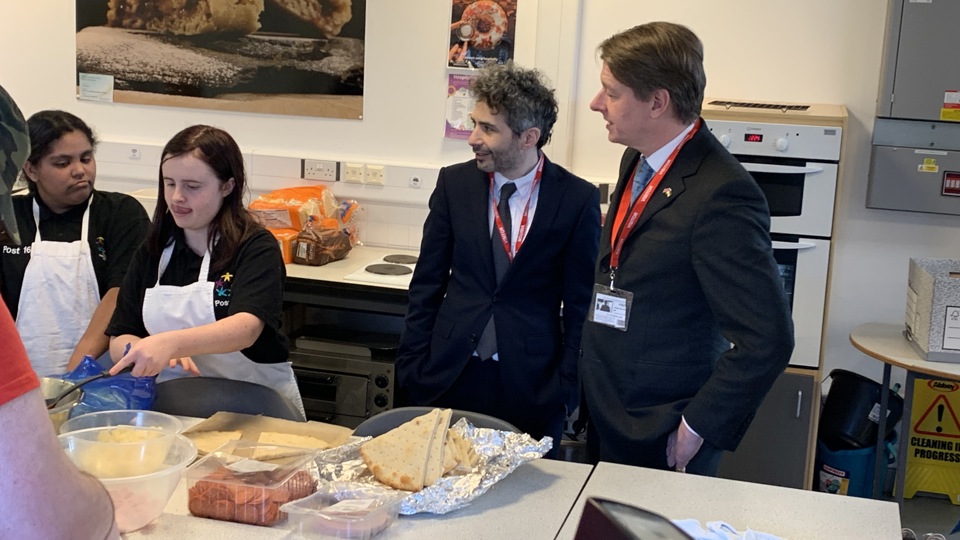 Education Select Committee chair Robin Walker visited the Black Country Careers Hub to see the partnership work of employers supporting SEN pupils at a local school.
The visit took place at The Westminster School, a special school in Rowley Regis, which caters for pupils with moderate learning difficulties plus additional needs pupils aged 7 – 19 years.
During the visit Mr Walker experienced a range of different practical activities led by the companies Mitie, DPD, Chartwell Catering and Ground Control, which are all businesses that support the school's careers programme.
Each activity was designed by the business to give pupils hands-on experience of what a day-in-the-life of a particular job was like so they could learn more about the sorts of skills needed in certain career roles.
Activities included gardening, assembling furniture for school use, preparing meals for a lunch service and how IT devices are used to help drivers track and deliver parcels.
The activities were tailored to the career interests of each individual pupil, which are identified through one-2-one career guidance meetings with a Careers Advisor.
Mr Walker also met with former pupils who spoke about how what they had learned in the school and how lessons are taught, with a strong focus on linking the curriculum to careers, had helped them on their career journey since leaving school. They highlighted the importance of social enterprise and vocational learning in helping them find and choose the right pathway.
Commenting on the visit, Education Select Committee chair Robin Walker MP said, "It was inspiring to see such excellent collaboration between employers, educators and young people with learning disabilities and it was inspiring to see the confidence that the young people were able to build in their chosen careers.
"Our inquiry into careers advice is looking into how better advice, guidance and support, including work experience, can benefit young people across the board and delivering better outcomes for children with SEN needs to be part of this. It is great to see how the Black Country Careers Hub works hand-in-hand with the Westminster School and local employers to raise the aspirations of the young people in the area."
Oli de Botton, CEO of The Careers & Enterprise Company said, "It was inspiring to see how the school links learning with jobs and careers – making the classroom walls more porous to the world outside.
You could see clearly how this sparked real energy and enthusiasm in the young people – bringing learning to life. The school is an example to all us in the sector, helping all their young people find a best next step.'
Oliver Flowers, Head Teacher at The Westminster School said, "Our students thoroughly enjoyed being able to show Robin Walker MP the work we do to inspire career choices.
We believe passionately in improving outcomes for students with special educational needs and ensuring all our young people are fully prepared and supported for life beyond education and equipped to be active participants in their community. Our careers programme and the support we receive for the Careers Hub, connecting us with employers, is fundamental to that."
Careers Hubs
Learn about our Careers Hubs and how they work
Learn more