Skills Minister visits Leicestershire Careers Hub during National Careers Week
13 Mar 2023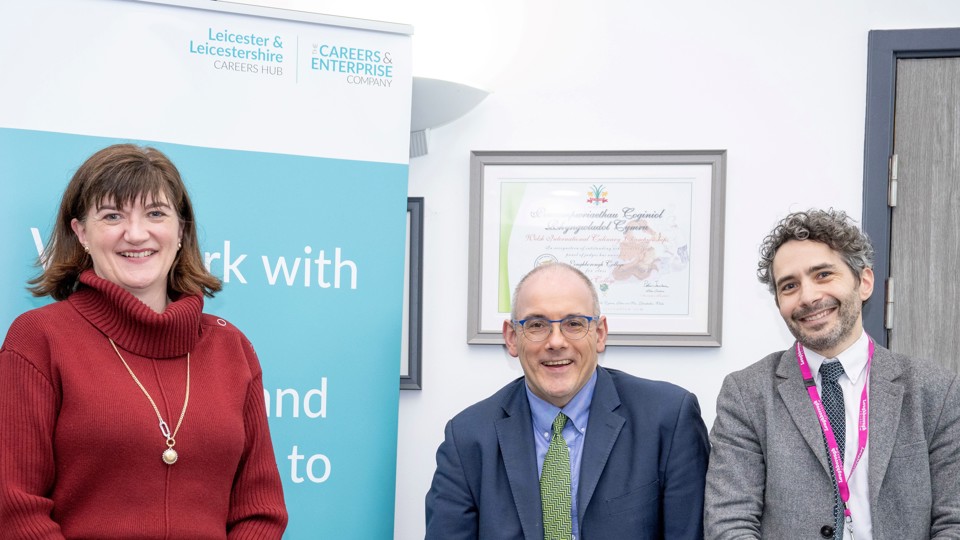 Robert Halfon, Minister for Skills, Apprenticeships and Higher Education visited Loughborough College to meet local employers and apprentices and see the work of The Careers & Enterprise Company's (CEC) local Leicestershire Careers Hub.
During the visit, Minister Halfon spoke with young people about their experiences of careers education and the support they received, including Oli, a Year 13 student and award-winning apprentice Jess. He was keen to understand how best to engage with young people around the opportunities provided by apprenticeships.
Oli, who is a member of CEC's Youth Advisory Group and a youth board member on the local Careers Hub, spoke about his particular interest in how best to support SEND students with dyslexia and dyspraxia achieve their desired career paths and how his role on the Careers Hub provides a forum to do this.
Jess, a Loughborough College alumni now working for Cornerstone Employer CR Civil Engineering, spoke about her role as an apprenticeships ambassador for the Careers Hub and the work she does going into schools across the county to talk about apprenticeships in construction and her passion for inspiring other young people.
Minister Halfon also took part in a round table discussion with CEC Cornerstone Employers, CR Civil Engineering and Cadent Gas, and Loughborough College Principal Jo Maher.
Jo Maher spoke about the college's careers programme, the progress made around Gatsby Benchmark attainment, and her focus on supporting young people throughout their education journey to help them find their best next step, highlighting the importance of all pathways such as T-Levels and apprenticeships.
The employers talked about the coordinating role the Careers Hub plays in connecting them with local schools and colleges, helping them to engage meaningfully with young people and attract future talent. They also spoke about how the Careers Hub has provided them with access to resources that helps them to offer targeted support for SEND students.
Nicky Morgan, Chair of CEC who led the meeting with the Minister said:
"Loughborough College is a fantastic example of what modern careers education is all about. As a result of well-structured careers programmes, such as this, young people are becoming more career ready.
"They now meet and know more about local employers and pathways like apprenticeships. And all this work is being driven locally by the Careers & Enterprise Company's Careers Hub, connecting with the local economy and helping to improve provision in schools and colleges - building young people's social capital, so they are ready for the future."