Helping light the way for our students at Parkside Academy
08 Mar 2022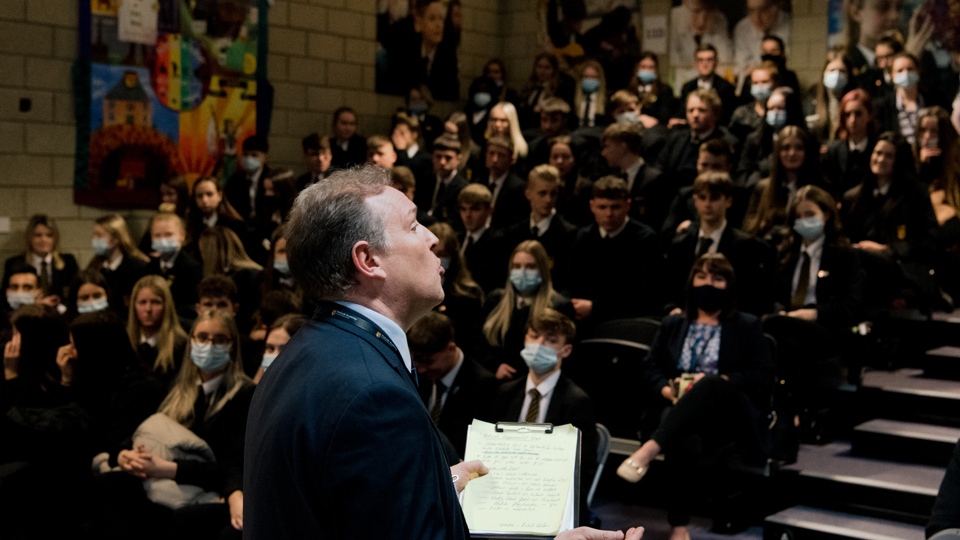 To celebrate National Careers Week, Steve tells us how he helps light the way for his students to find their best next step.
One of the great parts of being a Careers Leader is getting involved in securing the next best steps for our students. My role includes having a strategic overview of the careers programme at Parkside whilst also leading a careers network across the rest of the Trust. I have overseen the careers programme in Parkside since 2014 and in that time, I have developed a comprehensive and inclusive careers programme to meet the needs of all our students.
Helping light the way
As an 11-16 Academy our students leave at the end of Year 11 to a variety of destinations whether it be apprenticeships, FE Colleges, other school's sixth forms or military service careers. It fills me with immense personal pride to have been part of the schools' careers team that has helped 'light the way' for so many of our students who have gone on to become the best versions of themselves that they can be. This has included students who have gone on to carry out ground breaking research in the field of medicine at Newcastle University to other students who have pursued successful sporting careers making National and Olympic teams in their respective sports.
Author
Steve Roe, Assistant Headteacher at Parkside Academy in Southwest Durham.
It fills me with immense personal pride to have been part of the schools' careers team that has helped 'light the way' for so many of our students who have gone on to become the best versions of themselves that they can be.

Steve Roe
Highlighting Labour Market Information
The schools' comprehensive careers programme includes a wide range of careers activities starting in Year 7 that introduces students to the potential in STEM careers. Our termly 'drop down' Inspire days include whole year group careers activities to help light the way for our students in determining their future careers aspirations. The Academy also has careers activities as part of the their weekly Aspire programme and Careers Facebook posts highlight current apprenticeships as well as the latest Labour Market Information (LMI) to students and their parents.
Tailored programmes
This whole school programme is supplemented by a wide range of 'bespoke' small group activities that are tailored to the specific needs of our students. For example, our Art & Design department and GCSE Art students worked with artists who were creating displays for Durham City's Biannual Lumiere before lockdown. Our Science Department also works closely with Durham University to inspire the next generation of scientists and the school's 'Experi-Mentors' are closely involved in our KS2 transition activities which helps light the way to secondary school for our local primaries Year 5 and Year 6 students.
A significant number of our teaching staff including myself have been involved in Edge Learnings Teacher Externships which help embed careers learning into curriculum areas. This is now being rolled out through the other schools in the trust helping to embed careers learning in all our schools. Over the last couple of years some of the more bespoke career's activities have of course suffered due to the pandemic, whilst others were carried out remotely online, but we are slowly seeing light at the end of the tunnel and a return to in person experiences that bring to life the world of work and its possibilities.
Hosting the Minister for Skills
Most recently the school hosted a visit from the Minister for Skills Alex Burghart and Local MP Richard Holden to give a talk on apprenticeships to Year 11 as part of National Apprenticeships Week. They were joined by staff and current apprentices from Newcastle Building Society, Balfour Beatty, the Fire Brigade, and those who have completed their apprenticeships in the North East and have gained national recognition for their achievements. The session was a chance for current Year 11 students to find out about the different levels of apprenticeships, how to apply and what skills and attributes employers are looking for when they hire an apprentice.
Q&A with apprentices
There was also a Q&A session where students asked current and former apprentices about their real-life experiences of following an apprenticeship pathway. The event was organised with the national body for careers education, The Careers & Enterprise Company, and the regional Careers Hub delivered by the North East Local Enterprise Partnership, who support schools and colleges to prepare their students for their best next step.
Looking forward, the next 12 months will be about bringing back all the bespoke careers activities that our students experienced pre-Covid. Not just in Parkside but across the Trust, with collaborative school activities planned to help light the way for as many students as possible!
Never underestimate the power of 'experiences' in shaping a student's future career path.
If you want to help light the way for young people finding their best next step, volunteer with your local school or college as an Enterprise Adviser.