Our goal is to make high quality, 21st century careers education a reality for everyone, everywhere. We seek to do this by supporting Careers Leaders, linking employers with schools and colleges through Careers Hubs, and providing practical tools and resources. In all cases we seek to work in partnership to bring about sustainable, system change.
Impact data
National data shows there has been significant improvement in careers education. Schools and colleges have reported that performance against the Gatsby Benchmarks, the international standard for excellence, has doubled between 2017 and 2021. Progress has been fastest in Careers Hubs. Each year we publish national progress data, read our most recent report Trends in Careers Education.
For more evidence about the impact of high-quality careers education, including the relationship between the Gatsby Benchmarks and the likelihood of young people being in Education, Training or Employment post-16, please see our latest evidence.
Evaluation
Evaluations of Careers Leader training, Careers Hubs and the wider network have established the positive impact of these interventions.
Reach
We were established in 2015. Since then we've worked with thousands of businesses, local partners, schools and colleges to help more young people get ready for the future.
The table below charts the development of our reach over time.
 

17/18

18/19

19/20

20/21

Total number Careers Leaders trained

*programme launched 2018

-

351*

786

1,441

Schools and Colleges in Careers Hubs

 

-

690

13.7%

1,304

26%

2,234

45%

Schools and colleges partnered with business volunteer

2,196

2,529

3,282

3,381

Schools and colleges reporting progress each year via our digital tools

2,892

3,351

3,296

3,893
Among mainstream secondary schools, engagement across a range of indicators is highest in the most disadvantaged quartile (the 25% of schools with the highest proportion of students on Free School Meals).

The chart below shows the proportion of schools engaging in aspects of the careers system according to disadvantage.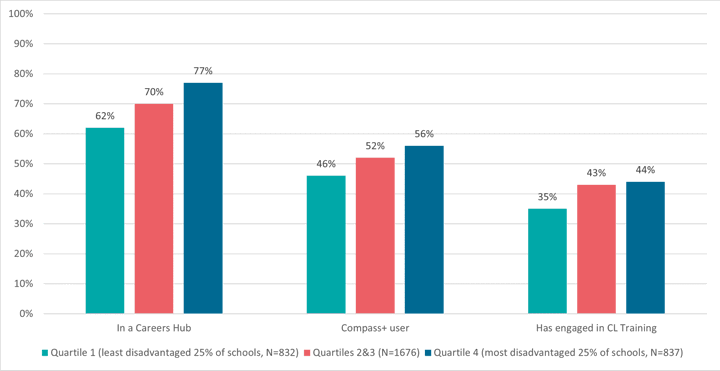 Data as of December 2021.

Young people's perceptions
Since 2020 we've started to capture young people's perception of their career readiness. Our Future Skills Questionnaire tool helps teachers to understand whether their careers programmes are impactful, what gaps exist in student knowledge and what skills young people are developing as a result of this work.
After a trial with schools in 2020/21, this tool is now being rolled out to schools across the country.
| | | |
| --- | --- | --- |
|   | 2020/21 | 2021/22 |
| Young people's views captured in our Future Skills Questionnaire | 4,586 | 15,385 (at February half term 2022) |