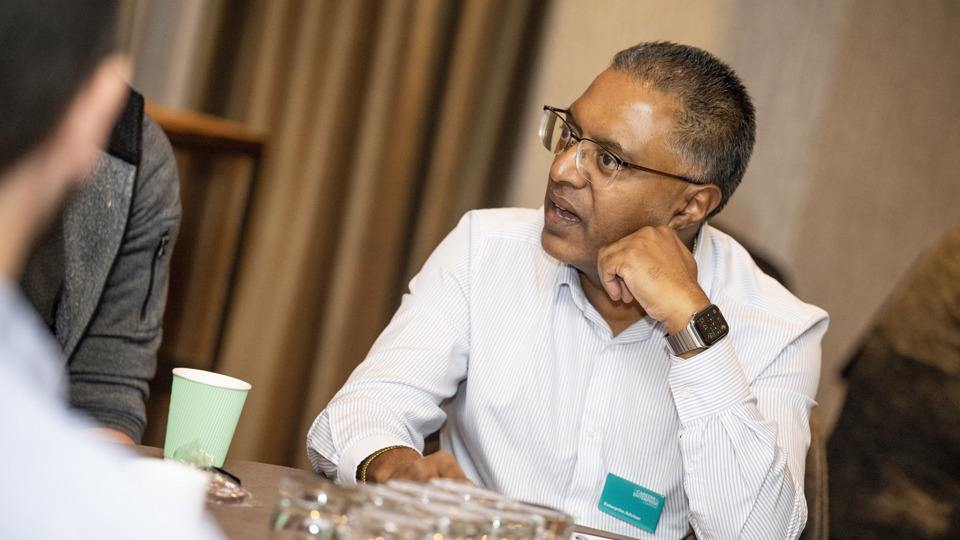 Your questions answered
We've compiled a list of the most commonly asked questions to give you more information about becoming an Enterprise Adviser (EA). If you have a question that you can't find an answer to, please email us at ea@careersandenterprise.co.uk.
Getting started
How do I get involved?
All you need to do is complete the short 'register your interest' form. You will be contacted by a member of our Careers Hub team. You can also find contact details for your local Careers Hub by using the postcode search.
Who will contact me?
You will be contacted by your local Careers Hub team, based on the postcode you enter in the registration form. Each Careers Hub is led and managed by a local delivery partner.  
We work with organisations with a stake in local economic growth. This includes Local Enterprise Partnerships, Mayoral Combined Authorities and Local Authorities. Hub teams are located within these partner organisations.  
It's likely you'll be contacted by an Enterprise Co-ordinator who will remain your main point of contact throughout your journey as a volunteer Enterprise Adviser.    
Your local contact will introduce themselves either via phone or email and be able to discuss the opportunity further with you. 
How soon will I be contacted?
You can expect to be contacted within 5 working days of submitting your expression of interest.
What do I need to commit?
You will be asked to commit to support education institutions in a Careers Hub for at least one academic year. Most of our Enterprise Advisers (EAs) continue their role after their first year. Every EA will volunteer sufficient time to achieve positive change. The average amount of time EAs support is four hours a month. This can be face-to-face or virtual, along with any travel, preparation, or follow-up.   
All EAs will be asked to engage in the local and national induction programme and other relevant learning and networking opportunities. 
Do I need to sign up through my employer?
No. Each person signs up as an individual irrespective of whether you discovered the opportunity through your employer.
What are the next steps?
You will be contacted by your local Careers Hub team who will talk through the role with you in more detail. They'll also discuss your motivations and preferences, as well as your employment background and skills.  
Each education institution's needs will differ, so it's important the local team know enough about you to maximise your skillset.
Working with Careers Hubs
What is a Careers Hub?
Careers Hubs bring together schools, colleges, Enterprise Advisers, employers and apprenticeship providers in local areas across England. The goal is to make it easier for schools and colleges to improve how they prepare young people for their next steps.  
Hubs are organised as partnerships between The Careers & Enterprise Company and institutions with a stake in local economic growth (Local Enterprise Partnerships, Local and Combined Authorities). Careers Hub teams are located within these partner organisations.
I've never worked with a school or college before – am I suitable?
Each education establishment will have slightly different needs and therefore we need a range of different people to find a good fit for each school, special school, or college across the country. In some cases, Enterprise Advisers can be pooled to capitalise on the diversity of skills available and work more flexibly across different institutions. ​ 
Essentially, we are looking for people who are resilient, solution-focused and passionate about making a difference. You do not need to have worked in an education setting before; it's your skills, knowledge and business experience that are needed. Ultimately, you will be providing insight and expert support based on your individual experience.
How will I work with an education institution?
You'll work with your Careers Hub team to identify the most suitable engagement method based on your motivations, skillset and needs of institutions across the Careers Hub. In most cases, you will be matched to a school, special school, or college on a one-to-one basis, but there will also be opportunities to provide more flexible support across multiple institutions.  
The Enterprise Adviser's main purpose is to ensure schools, special schools and colleges have well-designed, impactful, and sustainable careers programmes. Enterprise Advisers will be at the heart of influencing and designing careers programmes by engaging and supporting Careers Leaders and Education Leaders. Enterprise Advisers may also choose to engage with students by delivering careers activities. This is not a requirement of the role but is supported if identified by the institution as an area of need.
Can I choose which school, special school, or college I support?
We will always take your preferences into account. However, your preferred education institutions may already be matched with an Enterprise Adviser on a one-to-one basis. In this case, your local Careers Hub team member will discuss other options with you.
How long does it take to start working in an education institution?
It is important that we match you with the right school, special school, or college. Sometimes we may have the perfect match for you right away, other times it may take longer.  
If you wish to work exclusively with an education institution, the match time will depend on availability. If you wish to provide more flexible support, your dedicated Enterprise Co-ordinator will be able to advise you on available opportunities at the sign-up stage.
What type of education institution can I support?
Our Network of Careers Hubs work with state-funded secondary schools, further education and sixth-form colleges, state-funded Special Schools and Alternative Provision Providers in England.
Ongoing support and training
What training will I get?
Before starting the role, all Enterprise Advisers will have an induction. Ongoing training is then provided. Some training will be offered locally, and other training will be offered through self-paced learning courses.
What ongoing support will there be?
We offer a wide range of support to Enterprise Advisers. Each Enterprise Adviser will have a named Enterprise Co-ordinator (a staff member of the local Careers Hub team) who will support you throughout your volunteering journey.
Your team will arrange networking events for you to meet other Enterprise Advisers from your region. You will have the option of being buddied with an Enterprise Adviser who has been doing the role for a while, as well as access to a community of Enterprise Advisers on our national platform, the Digital Hub. You will be a member of a community of over 4,000 Enterprise Advisers and may wish to connect more widely through organised events and our Digital Hub.
What can I do to prepare for the role?
Your local network will be able to provide more information about how you can prepare for the role. If you are keen to understand the role more before speaking to them, you can read the Enterprise Adviser role description.
Is a Disclosure and Barring Service (DBS) check required?
Yes, you must be willing to undergo child protection screening appropriate to the role, including checks with the Disclosure and Barring Service (DBS). This will be carried out by the local Careers Hub team.